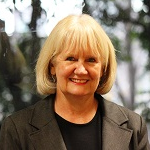 Kathy was appointed as the Chief Panel Member in 2004 and has undergraduate qualifications in town planning and post graduate qualifications in urban sociology and a Master of Arts in Research by major thesis. She has significant expertise in social and strategic planning, activity and precinct structure plans, retail development, environmental effects inquiries and built form. She has previously worked in the private sector, local government and as an academic.
Kathy is a Life Fellow of the Victorian Planning and Environmental Law Association and an Honorary Fellow of the Planning Institute of Australia.
Kathy was appointed as a Member (AM) of the Order of Australia (General Division) in the Queen's Birthday 2021 Honours List in recognition of her significant service to urban planning and to professional associations.